End Ecocide team with strong participation at Raoni's World Cup Tour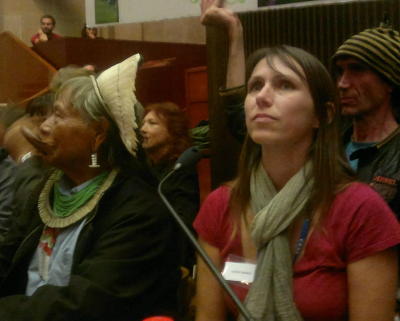 The designation of Brazil by FIFA as host country of the 2014 World Cup and the next 2016 Olympic games in Rio de Janeiro has given an "opportunity" for the authorities and the country's agro-industrial, energy and mining sector giants to accelerate the industrialization of protected forest areas, decimating indigenous peoples' rights on their own territories, whose land is highly coveted.
On June 1st, the legendary Chief Raoni Metuktire and his nephew Chief Megaron Txucarramãe, members of the Mebengôkre Kayapó tribe in the Brazilian Amazon, started a Europe Tour (France, UK, Norway, Monaco) organized by Amazon Planet to gather support for the Kayapó and for all the tribes across Brazil in their struggle to protect their ancestral lands and way of life. They are also urging the Brazilian government to demarcate the region known as Kapôt-Nhinore, which is sacred to the Kayapó. 
On June 4th, End Ecocide spokesperson Valérie Cabanes participated in a public conference with Chiefs Raoni and Megaron at the french Economic, Social and Environmental Council (ESEC) in Paris to explain which legislation should be implemented to stop Ecocidal industrial activities in the Amazon. The next day they gave a common press conference at the Quai Branly Museum which led to a wide media coverage.  Then Raoni and Megaron met with 200 children at the famous Trocadero garden to express their concerns about future generations' rights.
In the UK our English team attended two talks by Chief Raoni. One held at University College London, the other at Oxford University. The Oxford event was dedicated to the Ecocide happening in the Amazon, including a speech by Polly Higgins. The Chief who is over 80 years old and his nephew spoke passionately about the Brazilian government stalling agreements to demarcate key parts of the rainforest and the need to unite in order to save the rainforest. We collected over 100 signatures at these two events.
Ecocide of the month: Plastic Sea, Almeria, Spain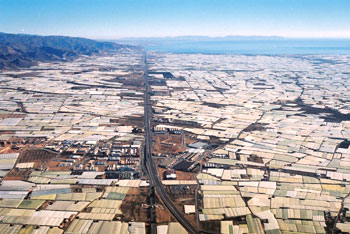 Surrounding the town of El Ejido, Almeria Province in southern Spain is a plastic sea of greenhouses covering about 30,000 hectares of originally dry land (almost a third are illegal greenhouses). The province is known to be one of the largest area using plasticulture in the world.
For decades, greenhouses of Almeria have produced more than half of the Europe's demand for fresh fruits and vegetables using pesticides and intensive farming methods. The region has become highly competitive due to a massive workforce without papers working in disastrous conditions in the greenhouses. Over 2.7 million tonnes of produce are grown on the plain each year, accounting for over €1.2 billion in economic activity.
These greenhouses contribute significantly to global warming by using 1 cubic meter of water per m2 a year, which represents 4 to 5 times more than the scarce annual precipitation of the region may provide (an average of 200 mm of rainfall a year falls on what used to be a dry savannah), not to mention the transportation necessary to distribute the products all over Europe and beyond. The question of what to do with all this plastic once used is still unsolved...
To sum up, in order to grow tomatoes in winter, we have created one of a few human-made ecocides that are visible from space …to stop it: sign at www.endecocide.org.
Action report from the UK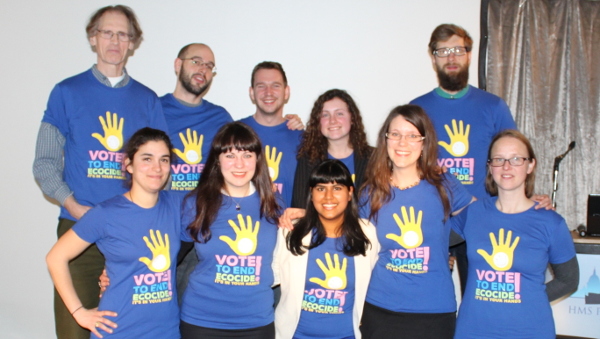 After Austria, we'd now like to present you the English End Ecocide team! We are about 30 volunteers spread throughout the country but most of us are based in London. During the past 1.5 years we have been working hard to collect English signatures. Some of the highlights include:
Production of the Eradicating Ecocide Rap - big THANKS to Row and his team!
Charity Pot weekends at LUSH shops in London
Press conference with Vivienne Westwood - have a look at the summary here
Stalls at farmers' markets and festivals to collect signatures
Organisation of a Mock Trial at Reading University with the help of new volunteers
Collecting signatures at the Marches against Monsanto and to Save the Arctic
Participation in panels, conferences, discussions, film screenings... participation in over 50 events organised by others
If you'd like to join us or already have a local group somewhere in the UK which we're not aware of, please get in touch with Lucy (
lucy@endecocide.org
). We are also organising a team meeting on July 19th in Stroud and you'd be very welcome! Just get in touch.
You want to help too? Please help us reach the million and spread the word, ask your friends and colleagues to sign and share. Now is the time! Sign at www.endecocide.org
If you would like to actively join us and help building a better world - email Lucia at lucia@endecocide.eu
Let's End Ecocide together! Every hand helps!