Fukushima - Danger of worldwide ecocide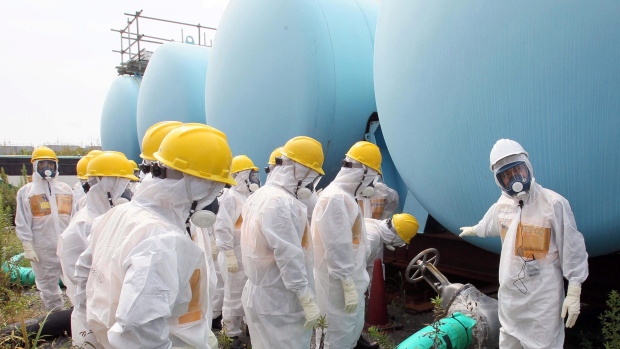 3 years after the Fukushima disaster, water contamination is a huge issue that has not been solved. Since the March 2011 meltdown, highly radioactive water has been kept in the tanks, with daily about 400 cubic metres leaking into the Pacific Ocean. Last August 300 tons of untreated radioactive water leaked into the Pacific Ocean. In order to fix the problem, Japanese authorities have come to a radical solution: dumping contaminated water into the ocean with a "controlled release"…starting in May 2014.
What does "controlled release" mean? A filtration process would remove radioactive elements from water. However, there are several doubts with the filtration process. There is worldwide no process found yet to filter the extremely dangerous strontium - which will thus be leaked into the ocean.
Mismanagement and lack of transparency prevail. Tepco has only now confirmed what was discovered last September: levels of 5,000,000 becquerels per litre strontium in measurements only 25 meters from the shore - the legal limit for strontium 90 release into the ocean is 30 becquerels per litre. More than 166,000 times the legal limit!
Shunichi Tanaka, chairman of Japan's Nuclear Regulation Authority explains that "We have to make a choice comparing all risks involved." Yes indeed, and this choice must be to End Ecocide and not releasing radioactive water into the ocean. Sign at www.endecocide.org
18th Congress of the International Association of Democratic Lawyers
Our legal heroes Prisca, Valerie and Emilie submitted a paper to this internationally well-known Congress explaining very clearly why an international law to end ecocide is the next necessary step.
Below you can sneak into the executive summary:
"A healthy environment is not only key to the achievement of human rights such as the most fundamental of all, the right to life, but also increasingly recognised as a human right in itself. This healthy environment, in fact the entire earth ecosystem, is threatened by the increasing depletion of resources, biodiversity loss and climate change. Dangerous industrial activity is responsible for a large proportion of this - but the corporations and individuals causing wide-spread damage and destruction often remain unpunished. For over 40 years, different formulations of an international environmental crime, called 'ecocide', have been discussed to halt this destruction through criminal liability of decision-makers. This article presents the proposed crime of ecocide, explores its history, and links it with recent developments in law recognising the human right to a healthy environment, but also the rights of nature, future generations, and indigenous peoples. It concludes that the law of ecocide prevention as well as a supranational court to enforce it are necessary to ensure these rights."
The full paper can be read here: http://www.endecocide.org/wp-content/uploads/04/14/iadlcongress.pdf and Prisca also wrote a nice blog article about the conference
Rights of Nature Congress in Paris
We have been invited to a conference on April 9th in Paris to debate about the Rights of Nature as more and more governments, citizen groups and NGOs are supporting projects declaring the Rights of Nature, or a legal status for Nature.
Our spokesperson Valerie presented our aim of giving full rights to Nature! Rights of Nature to welfare, Rights of Nature to be respected, and even the conviction of crimes against Nature. We had the opportunity to share our common views with Luis Espinosa Salas, First Counsellor of the Permanent Representation of Ecuador to the United Nations in Geneva, who presented the Rights of Nature to Welfare in the constitution of Ecuador as a practical example of legal completion.
We do hope that Ecuador will be the first country to ask for an amendment of the Rome Statute to include the crime of Ecocide. This would be the first step to achieve the objectives of the Charter of Brussels which calls for the creation of an International Criminal Court of the Environment and Health.
End Ecocide is collecting signatures from all over this planet!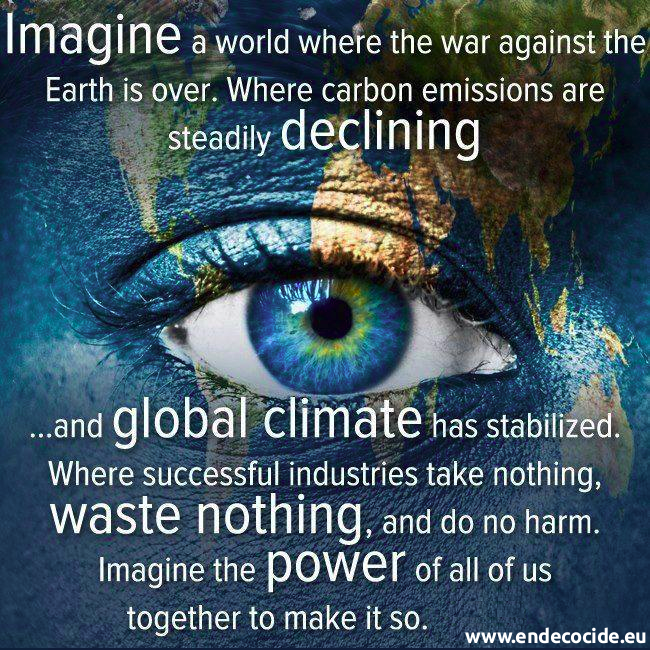 Reacting to a very common feedback we have extended the range of people that are able to sign our petition to all people living on this planet. Whether you are from the United States, Australia, China, Japan, South Africa, Brazil, Egypt,.... We are all together in fighting to end ecocide and your signature will be counted BOTH for the petition to the European Parliament and for the Charter of Brussels which will be handed over to Ban Ki-Moon in September this year!
We already see the United States signatures climbing in numbers rapidly but to impress the UN Secretary General we need to collect as many signatures as possible.
SO PLEASE HELP US REACH THE MILLION and SPREAD THE WORD, ask your friends and colleagues to sign and share NOW IS THE TIME! Sign at www.endecocide.org
If you would like to actively join us and help building a better world - mail Lucia at lucia@endecocide.eu
Let's End Ecocide together!! Every hand helps!