Ambassador's day!
Dear volunteers and supporters,
Are you ready to get our movement rolling? Would you like to do something to change the world and you're wondering what that might be? Well, how would you like to put on a camera and a smile and become an End Ecocide on Earth messenger? Here is our idea: we decided to contact ambassadors from different countries and tell them about our movement and we need your help in that. This is a great opportunity for you to meet interesting people from different countries and engage them in an important and meaningful conversation.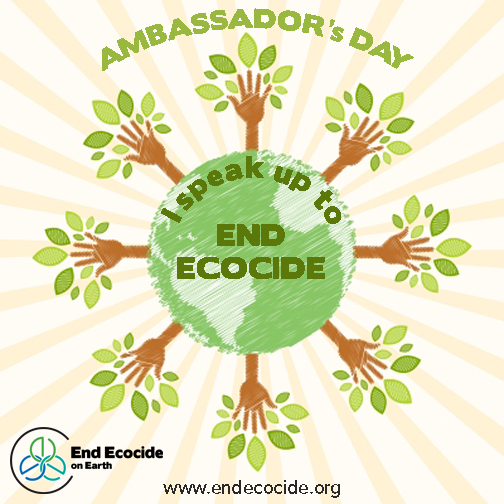 We really need you on board! We are organizing an action day that we named »Ambassadors' day«. It's a day when YOU will be given the chance to meet with ambassadors, consuls or attachés from certain countries to ask them to support our campaign.
We will prepare all the material (a template letter, conversation themes and communication strategy) that you can then use when meeting with the ambassadors. You can ask for a meeting in person or a skype call. Your job is to present our initiative and ask them to support us, by taking our message to the higher officials in their home country.
We want to be heard and seen. Take photos which we can use on our social media channels. We want as much attention as possible to create a momentum for our movement. Don't forget we are preparing for COP21 in December where we will organize the longest press conference in history. Having support of important country representatives would give us more power, credibility and importance in the eyes of those who are not yet familiar with our movement.
If you think you're the right person to do that, don't hesitate to contact Maja Horvat at info@endecocide.eu. It may be that you're not comfortable in public speaking, but you know the right people, don't worry you can also just provide us with contacts.
Action plan:
Contact Maja at info@endecocide.eu and volunteer for the job from 27th till 1st of May
Search for contacts of representatives (ambassadors, consuls, attaches) till 4th of May
Attend an online trainning with us to prepare for the meeting around 5th of May
Contact country representatives (we will provide the templates) till 8th of May
Meet with representatives, present the concept of ecocide, take photos on/around the 21st of May (try to schedule a meeting within calendar week 21)
Publish pictures on social media, send it to us and we will use it the next newsletter, Facebook page, twitter etc. till the end of May
The countries we are very interested in getting talks organized are:
Marshall Islands, Tuvalu, Bangla-Desh, Iceland, Sweden, Luxemburg, Democratic Republic of Congo, Ivory Coast, Ecuador, Bolivia, Colombia