Dear supports!
We have some exciting news to share with you!

We will continue to collect signatures for calling on the EU Parliament to create a law against Ecocide, now as a petition. This petition will be submitted to the EU Parliament end of September 2014.
Now you only need to provide country, full name and email, no more ID numbers and birth dates!
If you have already signed, you do not need to sign again. But please share this with all of your friends. Our power depends on your support!!

We have been invited to be one of the initiating organisations of the Charter of Brussels,published on January 30th in the European Parliament, calling for the establishment of an international court to try crimes against the environment, such as Ecocide.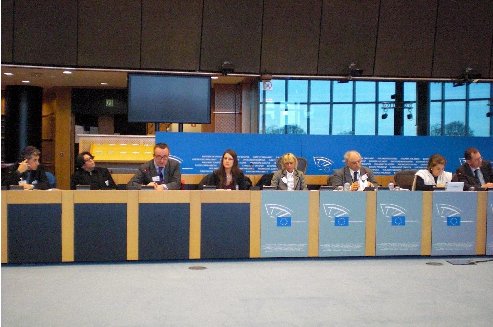 This is the next logical step on our journey towards a world without Ecocide. We attribute this brilliant achievement to YOUR help! The Charter calls for a progressive approach towards effective legal sanctions for environmental damages.
This includes:
Supporting and further strengthening the idea of a Moral Criminal Court for environmental crimes and offences
The creation of a European Criminal Court of the Environment and Health
The creation of an International Criminal Court of the Environment and Health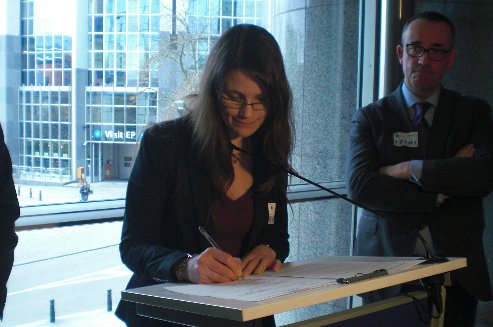 We were summoned to participate thanks to your support in the ECI, which shows that not only professionals see the need to establish legislative tools to protect nature, but so do concerned citizens!! Like you and us! You can support the charter - sign here and read more about it here! Please invite other organisations to join us and those interested should contact prisca@endecocide.org.
This Charter will be submitted to Ban Ki-Moon, the Secretary-General of the United Nations this coming September.

After reaching the deadline of the ECI our core team convened in Bad Breisig, Germany to discuss our next steps. During five intense days we summarised the past year and put our values, vision and mission into words.
We made a strategy and action plan and will be focusing from now till September on the petition to the European Parliament, to demonstrate continued citizens' demand for the law of ecocide prevention, as well as the Charter of Brussels, working closely with our international partners to establish an international court of the environment.
Our vision - "A healthy and sustainable planet where we, future generations, and all living beings, live in harmony in nature."
25 years ago, an International Criminal Court was unthinkable, but due to strong commitment from Human Rights organisations it happened. Today, an International Environmental Criminal Court might seem unthinkable, but if we continue to show the public's support, it can happen! You have a vital role to play in this! Share the two petitions and invite everyone you know to join.
We want your help! Join our volunteer team! Email lucia@endecocide.eu
Let's End Ecocide together!! Every hand helps!