2015 has been an exciting year for End Ecocide
It started with a discussion of the End Ecocide petition in the European Parliament in February.
Following on our Brussels conference to conclude the European Citizens' Initiative and launch End Ecocide on Earth, the expert group has been busy writing the proposed Rome Statute Amendments, a text that's now ready to be taken by any Head of State and proposed to be incorporated in the Rome Statute at the 2017 review conference.
The amendments define ecocide as "any act or failure to act which causes significant and durable damage to any part or system of the global commons, or which threatens ecosystem services essential to the safety of humankind" and incorporates all important elements: strict liability, liability of individuals (superior) and corporations, and the precautionary principle. The expert group brought together experts from different areas and fields of expertise to find a consensus definition that will also work in the international framework, so that now all we need is a Head of State of a party to the Rome Statute to propose it.
But as for many environmental groups, the highlight of the year was the COP21 in Paris.
COP21 in Paris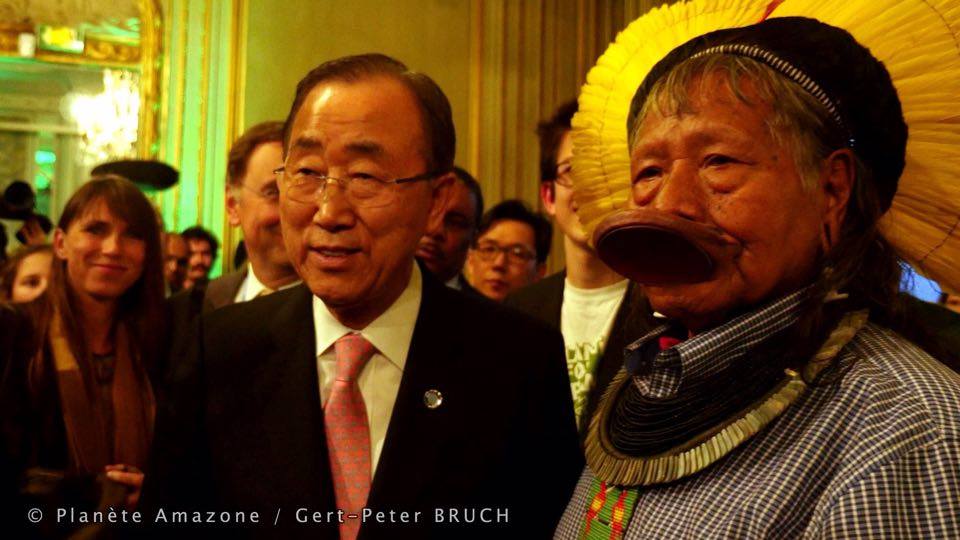 The first day of the COP, our spokesperson Valérie Cabanes met Ban Ki Moon at an event attended also by Cacique Raoni, Nicolas Hulot, Marion Cotillard, Mary Robinson, Anggun and many others. She gave him the 17 amendments on the crime of Ecocide to inform him that we are engaged in lobbying states to support our proposal in front of the ICC Assembly. In the following days, she handed over the amendments to some Pacific islands states representatives and influential civil society representatives of Botswana, Uganda, Namibia, South-Africa, Congo, Bolivia, Ecuador...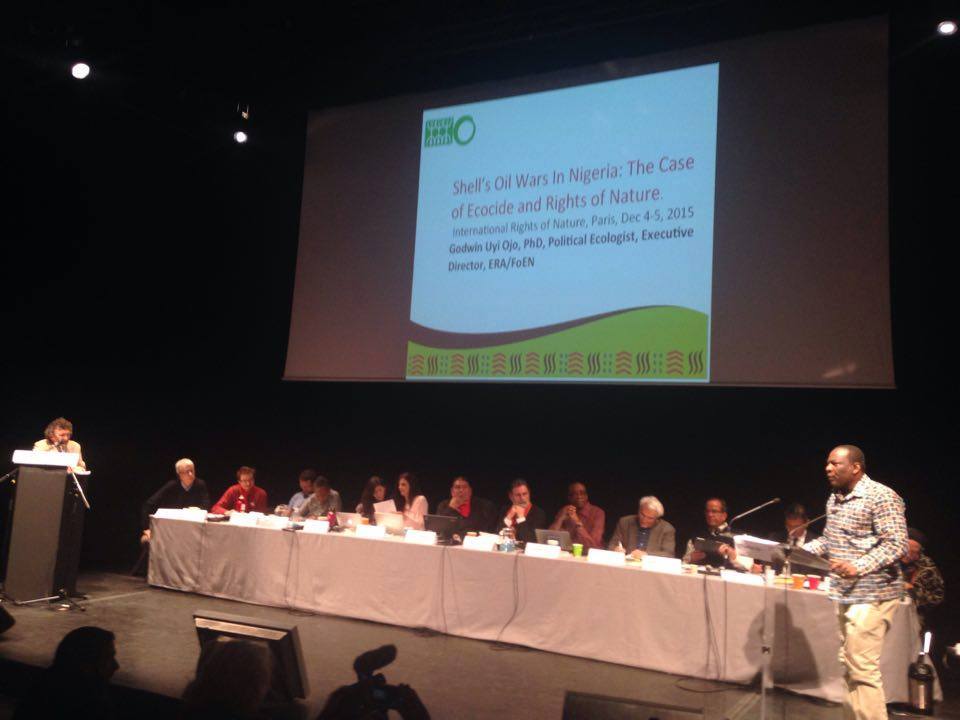 Our main event during the COP was the International Tribunal for the Rights of Nature together with the Global Alliance for the Rights of Nature, NatureRights and Attac France. The panel of judges consisting of internationally renowned lawyers and leaders for planetary justice heard evidence and pronounced judgments on cases of ecocide and violations of the rights of nature during two days on the 4th and 5th of December.
This video documentation covers 3 cases of crude oil extraction in Nigeria and Ecuador and the correspondent judgements on ecocide: http://justice5continents.net/fc/viewtopic.php?t=1107
You will also find a moving video overview of the Paris Tribunal here : https://www.youtube.com/watch?v=cXVrxNwGLuw
The day before, we organised a Conference on Nature's rights and human rights :
building legal, economic and social solutions to planetary crisis
The video opens in French but many speakers are in English starting at minute 42. The speakers invited were Cormac Cullinan, Samanta Novella, Natalia Greene, Geneviève Azam, Alberto Acosta, Patricia Gualinga, Tom Goldtooth, Shannon Biggs, Corinne Lepage, Koffi Dogbevi, Mireille Delmas-Marty, Emilie Gaillard Emilie, Osprey Orielle Lake, Yann Aguila, Laurent Neyret, Roger Cox, Marie-Odile Bertella, Valérie Cabanes, Marie Toussaint, and Vandana Shiva.
You can also read this interesting analysis of our common work in English or in French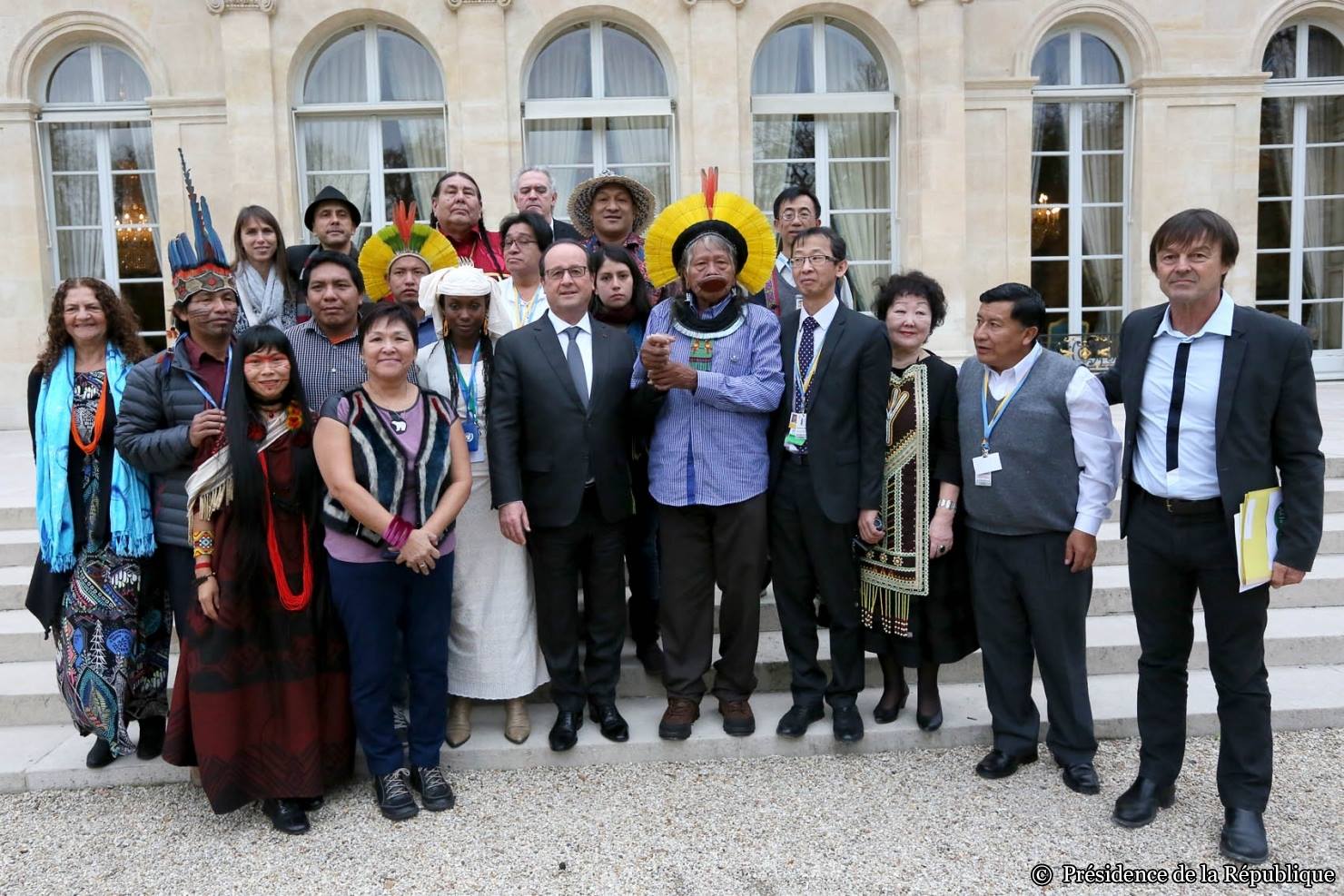 We further joined the Alliance of Mother Earth guardians founded by Indigenous leaders of the Amazon forest lead by Cacique Raoni. We worked with the indigenous representatives from all over the world on a statement of 17 recommendations to be given to world leaders during the COP, and officially handed them over to the French President on the 2nd of December at the Elysée.
You can watch one summary of our conference during the Alliance events titled From Ethnocide to Ecocide here in french and watch the replay of our participation to a French TV show.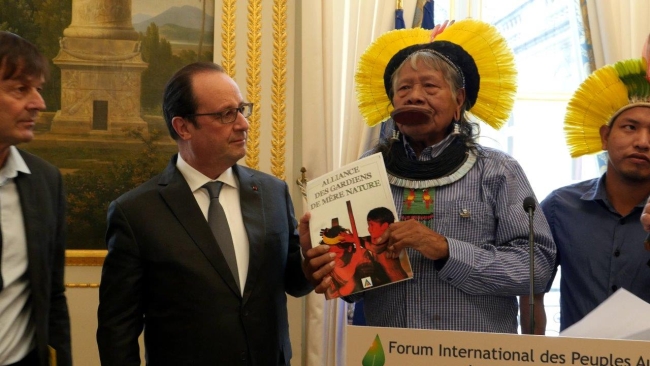 We also participated in a Side Event organized by Planete Amazone on the 10th of December at le Bourget with Cacique Raoni and Paul Watson (Sea Shepherd) to alert on the current state of the forests and the oceans, arguing why we need the crime of Ecocide to be recognized.
In the run-up to Paris our spokesperson Valerie Cabanes wrote contributions to three books: Stop Climate Crime ! (french), How to Save Humanity (English), and Des Droits pour la Nature (currently only available in French). At the COP21, we also launched this short video starring Vivienne Westwood and her husband as Adam and Eve in 'Trouble in Paradise'.
The idea is gaining traction: This year witnessed a landmark judgement in the Netherlands where the government was ordered by the Supreme Court to reduce emissions by 25% within 5 years to protect its citizens' human rights. We are proud that Roger Cox and Femke Wijdekop from our team were leading this campaign.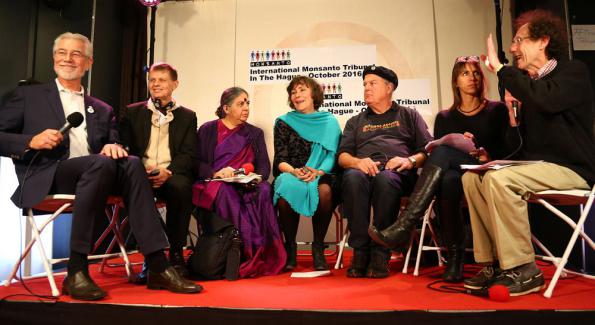 We have been asked to join the Steering Committee of the upcoming International Tribunal against Monsanto which will be held in October 2016 in the Hague in partnership with Vandana Shiva, Marie-Monique Robin, Olivier De Shutter, Corinne Lepage, Ronnie Cummins, Gilles-Eric Seralini, announced at a press conference during the COP. Watch this 9mins summary of the conference here on our Blog where you will also find a press review of all our media coverage during the COP : https://www.endecocide.org/press-conference-tribunal-against-monsanto/
In advance of the COP21, Bolivia had requested the establishment of an 'International Court for Climate Justice and Mother Earth', protecting the integrity of Mother Earth and its rights to regeneration. Ecuador had referred to its concept of 'Buen Vivir' (good living) or 'Sumak Kawsay', 'a new societal paradigm that places human beings and nature above capital, based on a principle that economic growth in a planet with limited resources cannot be boundless'.
Thus, there is hope and we look forward to continue working in 2016 for a world of justice, peace, and well-being.
You can be part of the change!